A hairdresser leads a busy life, working when most people are enjoying their free time. This can be hard for parents so we asked Nader, who has three children aged 13, 10 and 5, how he juggles his career with being a hands-on dad, especially on days like Father's Day
Q: Tell us your formula for being a successful working parent
A: My wife and I are lucky to be able to work as a team to cover the children's school hours and activities. Working flexible hours mean that I can drop them off at school which I really enjoy and find that it's a good time to connect with them. There is always something on with clubs and meetings at school so my key is being organised and planning-ahead as much as possible.
Q: Tell us about your journey into hairdressing
A: I studied for five years in Egypt as a property lawyer, and then worked for a further three years in the industry. I'm sure I don't need to tell you what attracted me to England… I came for the lady who is now my wife! To work here I had to study for another three years… so I decided to try new a career that wasn't so corporate, a career that would still alow me to connect with people… Hairdressing! ! It couldn't be more different! I started as an assistant twelve years ago working at a salon very close to the Gina Conway Salon in Westbourne Grove). When I started I didn't like it as it was so different and I found it difficult being an assistant after working in a high powered job, but after about a year, once I got involved and understood the industry I started to love it and felt that I had an eye for colour. I consider hairdressing a great job as I meet so many different, interesting people
Q:What or who inspires you?
A: I was really inspired by Alession Matta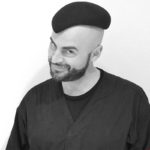 an ex-colleague who is now one of the top educators at Vidal Sassoon; I felt like I was learning constantly just from watching and being around him.
Q: Thinking about great gifts for Father's Day, is there a men's product you couldn't live without?
A: Grooming Clay is the best product ever!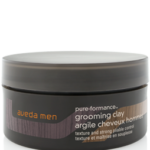 It has a medium hold so that you can change up your hair all day. I also love Co-Wash, part of the Be Curly range which I think is under-used. This acts as a shampoo and conditioner in one – it works best on coarse or very oily hair and it cleanses the scalp, so that if you don't wash your hair every day you can still get that just-washed feeling.
Q: What are you doing on Father's Day?
A: I am working of course! But my morning will start with my three children waking me up with breakfast in bed, all standing with presents behind their backs… except for my little one, who will throw it at me!