WHO ARE WE?
In our hearts
we are hair and beauty warriors with a conscience
we care about people and are protectors of the environment
we work hard to make people look and feel great
we give love and we listen
we are passionate about driving our own education and sharing ideas
we grow stronger and smarter every day
we are a happy tribe committed to being the best
ABOUT OUR FOUNDER: GINA CONWAY
PALM TREES + FAIRY DUST
Far from the sweeping palm trees of California, Gina Conway arrived in London with aspirations to bring some warmth and inspiration to the hair and beauty industry. She opened her first Aveda gallery-inspired salon in 2001 amongst the chic boutiques and family-friendly shops of Fulham and built a loyal following with guests looking for hair and spa experiences that delivered and delighted above their expectations.
Gina now owns three multi-award winning Aveda salons and spas. Her California roots and environmental focus has always made the collaboration with Aveda a natural choice: her vision reflects that of Aveda's in connecting beauty, wellbeing and the environment—all three promoting a healthy lifestyle approach.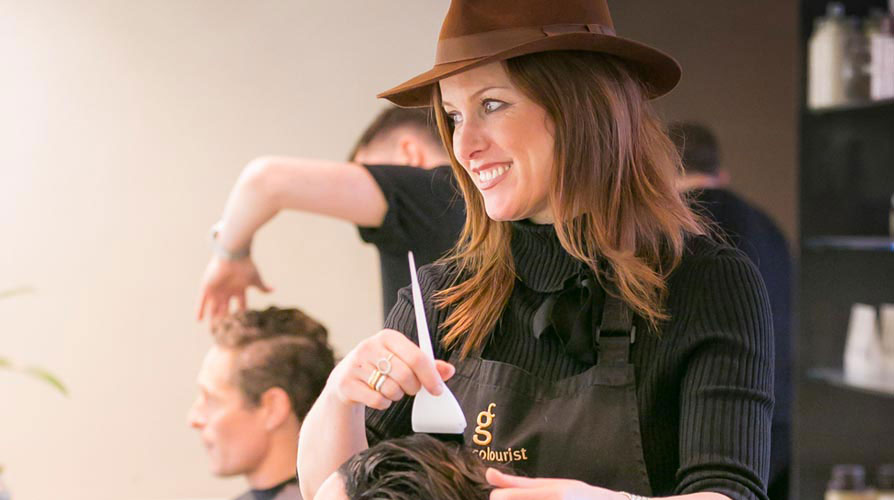 HER WARMTH FUELS US
If you ask Gina Conway what makes her salons and spas so special, she will always say 'When the doors close behind you in our salons… you feel safe, you feel calm and nurtured. You know you can trust us and fall in love with us. We are wholly focused on you, because we love you. I opened my salons with the aim of creating a retreat for not only each guest but for the GC Team as well. The journey starts with caring for the people that look after our clients in order to encourage wellness and beauty from the inside out.'
Having three Aveda salons in community-led areas of London has allowed Gina and the GC team to work closely with local businesses, councils, schools and charities to promote a 'culture of kindness' and to champion environmental awareness.
Educating and motivating the teams about these initiatives makes a true difference in how people work together in the salons—and raises awareness about global issues. Over the past five years, the salons have managed to raise over £35,000 for WaterAid. This comes as a result of the GC team and its members creating new ways to fundraise for Aveda's Earth Month campaign each April.
Gina's mission has always been to bring joy to clients through impeccable customer service, a caring, professional and educated team and a big warm welcome.
PLUS, WE'VE GOT STREET CRED
Gina Conway currently owns three successful Aveda Lifestyle salons in London, attracting a clientele that includes the likes of Maggie Gyllenhaal, Sienna Miller, Paloma Faith, Lulu Guinness, Julianne White and celeb stylist Arianne Phillips.
You might have seen us featured in The Times, Elle, Glamour, Tatler, Daily Express, OK! Magazine, Hello, London Evening Standard, The Guardian, The Mail On Sunday, National Geographic, Wedding Magazine, Brides Magazine, Hairdressers Journal International, Layered, Professional Spa and Wellness Magazine, Women's Health Magazine, West London Living, and many local publications.
We are honoured to have worked with top fashion designers including Jean-Paul Gaultier, Valentino, Armani, Dolce & Gabbana, Karen Millen and Vivienne Westwood.
Gina Conway Salons and Spas from Oliver Gold on Vimeo.