Blonde, brunette and red hair colours will always be the most popular shades and we love to perfect those natural, multi-toned hues in salon. But if you're feeling the urge to try something a little more daring this season, consider Pantone's Colour of the Year 2019: Living Coral. Easily incorporated into fashion and interiors, you might wonder how to wear this warm and energetic colour in your hair. On a clean blonde base you can expect a beautiful, vibrant warm shade, and by using a balayage technique we can mix it up with lighter shades of apricot to give depth to the colour.
Bold pieces of coral will provide a contrast against your hair colour and can be placed under the hair (demonstrated in this image from our Peekaboo Collection, created by Gina and her Art Team for Aveda's 40th Congress meet in 2018) so that they're revealed only when you style it differently – great if you need to look conservative for the office but want to switch it up afterwards, or for a really subtle way to wear the trend we can weave in tiny pieces through the fringe or lengths.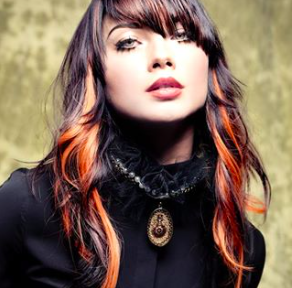 Our vibrant Aveda colour protects your hair as it colours; book in with one of our colourists for a consultation to see how you can wear coral hair colour.