In our salons we see all sorts of hair; it's unique to each person and to us every head of hair is beautiful and it's our job to make the beauty shine through. A condition we regularly see hair is loss and thinning which happens to many women for different reasons. It can be a stressful process as our bodies change and adapt and we are here to guide you through and advise you on the best way to combat this loss and keep your hair looking healthy and you feeling good about it.
One of the most common reasons for hair loss is the onset of the Menopause and the period of time leading up to the Menopause called the Peri Menopause which is when your hormones tend to fluctuate the most. This can happen at any age, although commonly from 43+ and often we are not prepared for the changes, even though they happen to 100% of 50% of the population!
If you're seeing changes in your hair and skin you can usually blame rapidly declining levels of the hormone oestrogen, which promotes water retention and plumpness in the skin and hair growth and fullness on your scalp. Without it your hair may become thinner and change in texture and you may also find that your hair breaks more easily because the new hairs that your follicles produce become gradually finer, and finer hair is naturally more fragile.
Aveda's hair loss expert, Dr Jodi LoGerfo says 'When a woman is losing hair, every day can feel like a bad hair day.' Your hair is an integral part of your identity, so it's easy to feel physical and emotional stress when losing it, but Dr. Jodi tells us you can change your perspective by addressing hair loss head on; 'by empowering yourself with hair care and lifestyle changes' she says 'you can regain your sense of self.'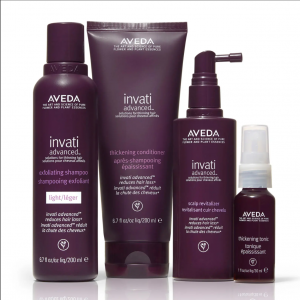 It's important to adopt the right hair care routine for your hair loss or thinning needs. Thickening shampoos and conditioners like those in the Invati Advanced System help enhance the appearance of hair's texture and can also help reduce breakage which can make your hair look thicker. Aveda is offering a 50% discount on the full system during the month of March 2022 – the perfect opportunity to try it out!
Try to remember that the Menopause is a transition stage of your life and have a play with your hair, the colour and style. Your hair stylist will be able to suggest a colour and style work with your hair loss – let them share what they have seen work on other guests experiencing the same issues. Book an appointment with our hair specialists here and make a note that you would like to receive advice for hair thinning.
Whilst what you put on your hair and how you manage it is important, what you put in your body can also be life changing. We recommend MPowder, the first dedicated Menopause supplement has a devoted following and offers plant-powered supplementation for each stage of your whole journey. It nourishes your body through the bio stages of menopause with a complete daily supplement of whole foods, botanicals and herbs, powered by a unique Biostage Complex. Verified buyer Rosie says 'this powder has literally been the best break though in my Peri Menopause journey. My husband has said to me… it's like I've got you back!'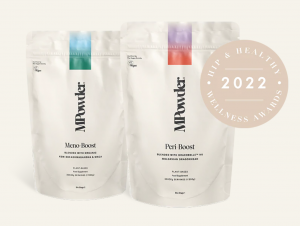 When you take your first pouch of Peri Boost you'll be invited to use a complimentary symptom tracker and at the end of month one, MPowder's health concierge will provide you with a personalised progress report, including lifestyle tips to support further progress with your symptoms. This specialist service is just for you and your body's needs, and you'll have a health advisor who really understands what you are going through to advise you.
Great health from the inside out really will make a difference to your Menopause journey – and taking control and understanding is one of the first important steps – come and see us in salon and we can start a new journey together.