We were so excited to have the opportunity to be an Official Backstage Spa Partner at this year's BRIT awards! A stream of A-list guests including BRITs' Winner Lewis Capaldi and Love Island's Montana Brown artists, dancers, Tik Tok'ers, influencers and managers visited our oasis of calm in the backstage spa area. Invited to choose from either a relaxing massage, a Sassy Up-Do, or a BRITs red carpet blow dry, every guest enjoyed a personalised experience, respite from the madness even just for a few minutes.
A highlight of our three days was giving BRITs' Winner, Lewis Capaldi his first ever massage. As he took a seat in our spa area, Lewis was a little ticklish, but eventually relaxed with the help of the calming Aveda scents and managed to catch a moments peace before his award-winning performance. Like Lewis, you can enjoy a range of massage treatments at one of our three London-based salons, immersing yourself into the Aveda aromas and therapeutic techniques our skilled team offers.
Love Island's Montana Brown joined us for a relaxing hand massage whilst her hair was styled into beautiful, flowing waves. The team used Aveda styling products such as the Air Control Hairspray to ensure the finished look endured the backstage chaos and unforgiving weather on the red carpet.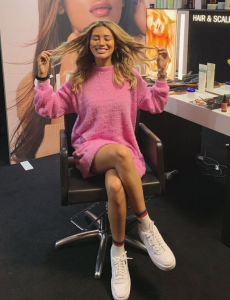 All of the treatments we provided backstage can be enjoyed by you in salon, so make sure to book in with us to feel like an A-lister!