Friday, 11th Jan 2013 – Day 6 – The Detox
A warm shake to start the day, just what I needed after four hours sleep. My husband had a boys night out and came home smelling of curry and complaining that his meal wasn't great… oh my heart bleeds. Why do they want to regale all their stories at 1am?
Today I was hectic and so I missed out on my morning exercise. I was feeling quite tired by lunch and a little grumpy…I thought that with the running around with the kids will be the same, but I know it's not.
Friday is play day and so I collected my three cherubs with their three friends from school and back to our house we all went. The usual chaos ensued. Friday is Fish and chips night, very traditional. Normally I would help them eat their dinner, no not feed them, help them eat it! It was very hard to resist and I probably sound mad, but I was constantly talking to myself (in my head of course). "Don't eat the food" "If you start, you won't stop" "If you start you would have ruined the last 5 days" "You aren't really hungry" and so on..
The other thing about Friday's is I do enjoy making it to the end of the week and celebrating that I've managed to parent and work. I've fed the family, they went to school, no big disasters (well if there were I'd have a few more glasses) and to start the weekend. Tonight – ooo another mug of herbal tea…
I do know that once I start to drink, I normally pick, and not at salad. It's so easy to see all the excess calories I consume! So after having iron will, I followed it up with a very healthy dinner. I wanted a jacket potato with butter, cheese, sweetcorn…. what I had was salad made with baby spinach, jacket potato filled with tuna, sweetcorn and lemon juice.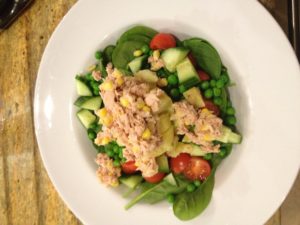 Dessert or pudding tonight was delicious – some blueberries!
Written by Melissa Harris
If you are interested in finding out more about this detox, please email melissa@melissaharris.co.uk.
www.melissaharris.myforever.biz/nutrilean