Wednesday, 9th Jan 2013 – Day 4 – The Detox
I've passed the first hurdle and I feel I've settled into a reasonably 'normal' way of eating. I feel that this could be manageable for every day life. I've also noticed how often I snack, pick and have a small treat… and it's alarming. No wonder I put on so much weight over the years. It creeps up slowly over time. Clothing gets a little tighter, I make excuses…
THREE STONE later and I'm a bit… older. I've been felling unhappy about my image, uncomfortable in my own skin. I've also got a lovely wardrobe sitting there ready for the skinny person inside of me.
Tonight for my Kings supper, steamed salmon, rice and vegetables. Delicious. Normally I stir fry the veggies, but tonight I steamed them and then tossed them in a bowl with soya sauce.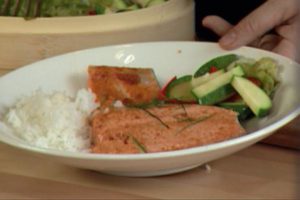 Dessert – or pudding, a big glass of Aloe and face mask whilst I read my book in bed. To me that is luxury. I just hope my halo doesn't fall off in bed….
Written by Melissa Harris
If you are interested in finding out more about this detox, please email melissa@melissaharris.co.uk.