Day One – Night flight from Paris having just spent last 24 hours in Lake Tahoe, San Francisco, and London. Not sure what time it is in my body. I guess I'll just go with the flow. The cultural changes are starting to warmly tickle my toes, I will be awash by tomorrow. Before you know it, I'll probably be bathing in the Ganges.
Arrived to the WaterAid board meeting at the Center for World Solidarity and was enlightened by many aspects of the vital work they are doing. How they lobby the govt for funds, install water and toilet facilities as well as help create sustainable hygiene processes and access to clean healthy water.
They working on the WASH project which focuses on water, sanitation and hygiene (changing attitudes towards menstrual hygiene management).
I learned that 1 out of 3 people in the world do not have access to a toilet and that 60% of the worlds open deification exists in India.
Wow! Grateful for this opportunity to visit India in a way that I couldn't have seen without the help of WaterAid and Aveda. So eye opening to meet the local advocates bringing real change for economic and social developments into these desperate communities.
This lady is the leader of the community. She didn't stop smiling the whole time we were there.
Day Two – Yummy spicy curries for breakfast! Heading to a rural community today to see what a pre-intervention village is like.
We met the head of education, community leaders, health workers and local children who told us stories of how they live and the social stigmas and dangers associated with outdoor toilets.
They told us how women are only allowed to go outside to the toilet in the early morning or after dark to preserve their dignity. This causes many health issues as well aside from the threat of snakes, scorpions and sexual predators.
One girl spoke up about menstruation and told us how they are not allowed to leave the house when menstruating as they are considered unclean. They cannot touch anyone during this week, bathe or go to religious temples.
This 15 year old girl is beautiful and now of marrying age. Her hopes are to go to college and become a web developer. The chance to succeed with their dreams quickly diminishes for older girls as 20% don't receive an education past 14.
The children at the school were so happy and excited to see us!! They were desperate to share their stories. How I hope we can help them.
We must give these children reasons to smile as over 140K children die every year due to poor sanitation and unsafe water in India.
I just fell in love with these two. A great great grandmother so deliciously cuddling her angel
I have to tell the story of the passionate girls that have started a grass roots movement called CORE. The aim of this is to teach young girls about menstruation (MHM – menstrual hygiene management) and the conception of children.
They have worked with over 1200 youths so far moving from school and community centers in their region. They use games and creative play to get across safe and sanitary menstruation practices and break the taboos that they have lived with all their lives.
One girl was told by her grandmother to stay away from the temple during menses or she would die! As a result of the CORE group she challenged this and went into the temple. She came home bravely and told her grandmother that she did it and did not die. Her grandmother then realised the importance of challenging these myths.
They fed us homemade regional cuisine for lunch. They were gracious hosts.
Day Three –
Early start again to beat the heat of the day and meet many people from a village called Ibrahimpoor that has benefited from having clean water and toilets in every household. This village was in desperate need and it took two years to implement these changes.
All the villagers were so proud to show off their homes and invited us in for a visit. The homes were immaculate. The roads were swept and they had transformed an open deification area into a lovely lush garden.
So wonderful to visit a new school that was built for 100 children. They welcomed us with beautiful flowers and leaf decorations.
One of the biggest celebrations for this village was the fact that they only needed one health care worker instead of four. Before they had access to clean water and sanitary spaces they had so much illness.
A community centre was also built to deliver nutritious food for children and pregnant mothers.
We spoke to a group of women who were being beaten by their husbands because they had to walk 1-1.5 hours each way to find a safe, private place to go to the bathroom.
The second village we went to today is in the middle of making changes through the support of WaterAid.
A very spirited entrepreneur named Radha from Ragharapur told us how her time is now spent looking after her buffalo to earn a living rather than walking 5 hours a day to find a private place to use the toilet. As a widow she can now stay home and look after her elderly mother.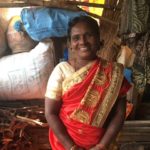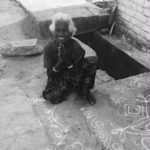 One of the observations I've made is that the mindset is hard to shift about people not wanting to have a toilet in their homes as it will spoil the house. It is necessary to teach hygiene management to all generations to create disease free environments.
Off on another flight to Bangaluru tonight and have long transfer to hotel. A new adventure starts tomorrow.
Day Four –
I had no idea, by day's end that I would have the richest day with the poorest people.
First I sat in on a meeting with the People's Organization for Rural Development (PORD) and listened to Ms Malleshwari's personal journey to challenge the myths about menstruation.
I was sad to hear that she was made to sleep for 10 days in the cattle shed during her period and not allowed in the home. And that after girls in her community had started menstruating, they were no longer allowed to attend school so most of them stopped at age 10.
She persevered and negotiated with her very traditional family to marry at 15 so she could finish school. She came to marry an activist who supported her and helped her to shape her future in a way that would help many women and communities. She started the NGO PORD. Their son is now a software developer and she also is a journalist. A true success story!
The next stop was to a post intervention village where we were warmly welcomed with a ceremony of flower giving, with bright yellow garlands made of marigolds, turmeric face painting and vermilion dots to symbolise a bindi.
The village children did a gorgeous dance which focused on health. Then the head of the Village Water and Sanitation Committee gave a presentation – quoting that only 10% of the village had toilets and then within a year they had reached 95%.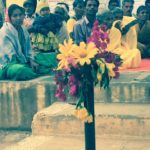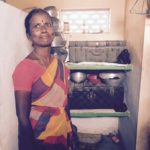 They were so proud and excited to see us. I felt like a celebrity. They all wanted to shake my hand, like I was a savior. But it's not me, it's you, WaterAid and Aveda to thank.
They welcomed us into their homes again to show us that they had a better quality of life. The made us sweet chai tea and told stories of the hardships they had endured. We laughed and cried.
The last stop of the day was at a state run school of all girls and they did a beautiful traditional dance for us and wanted us to join in.
They wore no shoes and had dirty purple uniforms but for the festival they planned so many wonderful surprises and gifts for us!
They prepared a sari ceremony for us and gave us hand stitched sari's and vests that the elders helped us to put on.
Brave and bold they staged plays to protest in a society that sees them as having next to no rights at all. They wrapped up the performance with asking us questions about what we take for granted.
The lump in my throat hurt telling them that we have equal rights as women, we can vote, work, attain higher education and have all the freedoms that men do. I had to tell them this even though it was hard. I wanted them to know they should fight for these things too!
We enjoyed some lovely customs of the culture such as Henna tattoo's and on the last day we visited an ashram.
I'm always keen to further my Ayurvedic knowledge with a treatment in a new country to bring back new ideas and influences. And as always, I'm happy to say that our talented therapists are always spot on with providing services that exceptional.
I've made some good friends on this trip. I think you see and share experiences that are so out of this world that you connect to the core. It's made me humble and steadfast that I am not an island.
I am capable of helping create change for the better. Twenty years ago I proclaimed that I wanted to help make the world a better place on a large scale. And every day since then I do my part to chip away and build my dream. It's nice to see that what you and I give actually does make a huge impact on people. The glaring difference between the pre and post intervention villages is HUGE. From hunger, illness and shame, to equality, pride and freedom!
Raising money for water, toilets and MHM isn't very sexy I know. But these humble proud people are desperate, and grateful for your help. And I am too.
Please help WaterAid by donating in the salons from the 23rd March – 26th April or click here to support my 'Wheels for Water' London 100 bike ride.