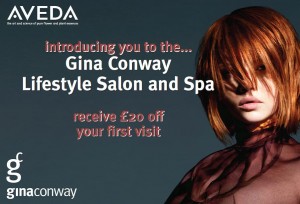 We love our new guests and want to treat you on your first visit…
So stop thinking about visiting us and come on in!
On your first visit we will give you £20 off your first service, as long as its over £50. Choose from beautiful spa treatments including facials and massage or maybe our creative hair services including Aveda 97% naturally derived colour or cuts.
Ask our reception team when booking. Call Wimbledon on 020 8090 5818, Notting Hill on 020 7229 6644 or Fulham on 020 7731 7633, or visit www.ginaconway.co.uk
So what are you waiting for? Just uber pampered now! Valid Monday-Thursday only.
Much love, Alexis xxx