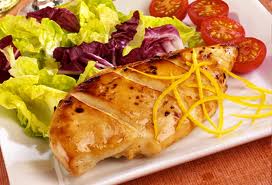 Tuesday, 8th Jan 2013 – Day 3 – The Detox
Third Day and I woke up excited – food tonight! Day three you have the shake for breakfast and lunch – so today is an abundance of food! I bounced through the day and when my colleagues were having lunch I didn't feel hungry or envious (well only a little), but the thing is, I didn't feel hungry or tempted.
But hey the exciting news I almost forgot to tell you – I weighed in and ….. I lost 6 pounds or almost 3kgs! It has really inspired me to work really hard at making the most of the next 7 days.
I was tested this evening though. First I took the children to Sports Direct….WHY!? – after 1hr 30mins or 12hrs…. I left there with one pair of shoes that I didn't mean to buy and left with another child screaming that I hadn't bought his intended shoes and a desire for a large glass of wine!
For dinner…. Oooo what to have… I brushed Teriyaki sauce over a chicken breast and then steamed it, a jacket potato and mixed salad…. OMG it was delicious!
As I've been sooo good, I'm feeling that a really good massage is in order… it will help me physically and I think mentally, and maybe a pedicure for good measure, every girl needs a bit of pampering!
Bring on Day Four!
Written by Melissa Harris
If you are interested in finding out more about this detox, please email melissa@melissaharris.co.uk.