Sunday, 13th Jan 2013 – Day 8 – The Detox
Almost there! I've realised how much I snack, or treat myself. I'm aware that I spend a lot of money on these treats, coffee's and too often ready meals. So I'm spending money on getting fat. This week I've saved £pounds and lost the right sort of pounds and had a re-education on cooking and eating. Another bonus is, my skin seems really clear and moisturised.
Today we went off to the Science Museum and I worried how it would be, but a take away cup of warmed skimmed milk and it was easy. Whilst I watched others select their food from the cafe, I thought about my choice. Probably something highly calorific to be honest. I would have made excuses why I should eat it, and tucked in. I noticed a family having soup and bread – there was no mistake, they were all slim. I saw a largish family having pizza, chips, pies, chips, fizzy drinks…that would have been me normally I think. I then noticed a lovely older couple having a pot of tea, and they had bought their own sandwiches. Next time I would bring my own healthy food or have soup!
I wore my jeans today that I had grown out of…. but I was back in them – just. So it was a reminder that though I've lost a lot of weight and inches, I still have a away to go. On Tuesday I'm not going to go back to old ways, but keep up part of the Clean 9 routine. I am thinking of having one treat a week, rather than a day, keeping up the aloe of course, drinking more water than I normally do and drinking the shake as a meal replacement with added fruit.
I can't promise that I won't drink coffee, but I will endeavour to drink a lot less!
Tonights dinner wasn't great. I got the thumbs down from hubby, but you live and learn. Tonight was stir fried pork strips, with garlic, ginger and teriyaki sauce served with stir fry veggies (mistake using butternut squash), raw spinach and a little steamed rice.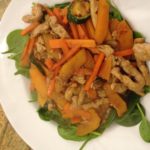 So tomorrow is Day 9 and I'm really looking forward to crossing that line with my halo in tact!
Written by Melissa Harris
If you are interested in finding out more about this detox, please email melissa@melissaharris.co.uk.
www.melissaharris.myforever.biz/nutrilean