Saturday, 12th Jan 2013 – Day 7 – The Detox
Another freezing day and normally I love sitting down Saturday morning and enjoying my latte… Oh dear. Lucky for me another hectic day… My daughter Chloe has ballet at 9.30am and then my middle son Max plays in Little League. Normally Chloe and I stay at home, however with his big blue eyes and saddest little boy face he pleaded that I come along to watch him. You just can't say no.
I get back from picking Chloe up from ballet and my husband who is meant to be in charge of getting Max off to football is sitting there with a Coffee and not ready. They have 10mins before they have to leave, and Max is not dressed either, no water bottle, nothing done. Yes, I'm grumpy again, as I have found it quite hard to concentrate and I would have preferred a nice morning with a hot cup of herbal tea, instead I end up doing my best impression of a barking headless chicken! Why do men get themselves ready and no one else?!
I forgot to tell you about my measurements on day four.
Day 1 Day 4
Hip 111cm 104cm
Waist 107cm 92cm
Thigh 69cm 64cm
Chest 101cm 100cm (thank heavens, I can't afford to loose too much in this area)
Arm 38cm 33cm
So on day four I'd lost 33cm! Amazing.
For dinner I wanted something spicy so I made a weight watchers sag curry with a little rice. No yogurt, chutney, breads, but still super yummy. Again I miss my glass of 'sanity' (well I have three kids!) but I've survived and day 10 is approaching. Actually I'm not going to have a drink day 10, but wait, because on the 17th it's my 15th wedding anniversary, and I really think I will want/ need a drink!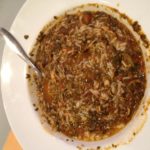 It doesn't look great – but it was super tasty!
Written by Melissa Harris
If you are interested in finding out more about this detox, please email melissa@melissaharris.co.uk.