Aveda color is:
Long-lasting, conditioning
Vibrant colour with shine
Essentially damage-free
Ammonia-free options
Up to 96% naturally derived*
*From plants, non-petroleum minerals or water.
Our award-winning colour professionals start with a consultation to identify the perfect plan to meet your needs. You may agree on anything from highlights and subtle enhancements, all-over tones to cover greys, or ahead-of-the-trends techniques just surfacing on the runways. There's no rules, and no limits—whatever you can imagine, we can create.
First, Safety: Your Patch TestBefore you try our one of our award-winning colour experiences, the only rule we do require all guests follow is a mandatory patch test.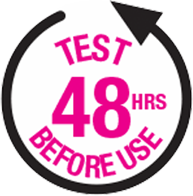 To ensure total health and safety, we bring you in at least 48 hours in advance of any hair colour or straightening services as well as tanning, eyelash treatments or tinting appointments.
We offer free consultations for all colour appointments and treatments, so if you are unsure of what service to book, please call.
Graduate Stylist
Fully trained, certified stylists who have graduated cosmetology school in the past 6 months- 2 years. Their work on guests is supervised by our senior mentors.
Stylist
Certified stylists who have been working for on guests for 1-3 years.
Creative Team
With 3-6 years experience, these certified stylists have mastered advanced techniques through extensive, higher level education classes.
Director
Technical work is at level of Mastery, is an Educator for Gina Conway Academy and leads the team's training curriculum.
Creative Director
A technical Master and influencer of trends to come; helps lead the collective work of the team in a creative capacity through collections, photo shoots and editorial work.
Artistic Director
A Creative Director with 15+ years of experience in top level salons. Leads the company and our Artistic team.
Executive Director
(New level) One of the best in the world.
Gina Conway
Full Head Highlights from
Technician
£91
Senior Technician
£102
Creative Technician
£113
Colour Director
£124
Full Head Highlights extra long, think or blonde
Technician
£110
Senior Technician
£123
Creative Technician
£135
Colour Director
£148
Half Head Highlights from
Technician
£59
Senior Technician
£70
Creative Technician
£75
Colour Director
£86
Half head of Highlights extra long, thick or blonde
Technician
£69
Senior Technician
£84
Creative Technician
£90
Colour Director
£103
Hairline & Parting
Technician
£48
Senior Technician
£54
Creative Technician
£65
Colour Director
£75
Balayage (includes toner)
Technician
Senior Technician
£124
Creative Technician
£135
Colour Director
£148
Balayage extra long, thick or blonde
Technician
Senior Technician
£148
Creative Technician
£162
Colour Director
£177
Bleach & Tone
Technician
£57
Senior Technician
£68
Creative Technician
£78
Colour Director
£89
Full Head Colour (permanet/semi permanent)
Technician
£65
Senior Technician
£71
Creative Technician
£77
Colour Director
£84
Regrowth Tint


If over 1" or extra hair, book "Full Head Colour"

Technician
£43
Senior Technician
£48
Creative Technician
£54
Colour Director
£59
Colour Balancing Toner
Technician
£20
Senior Technician
£20
Creative Technician
£20
Colour Director
£20
Colour Change/Correction
Priced on application